Long Valley Green Market Extended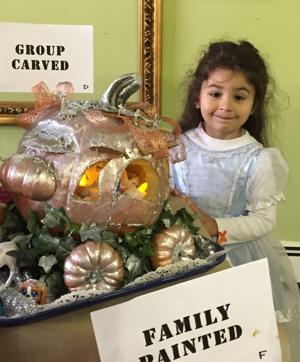 Young Winner
Gwen Wacha-Diaz of Long Valley dressed as Cinderella as she was warded first place for "Cinderella's Coach," in the "Family Painted" category at the annual pumpkin decorating contest hosted by the Long Valley Green Market.
Photo by Mark Kitchin
WASHINGTON TWP. – It may be the official end of the season for the
Long Valley Green Market
at 20 Schooley's Mountain Road but unofficially its vendors do not want to stop.
Business has been so good that many are planning to return each Thursday to their spots on Schooleys Mountain Road until Thanksgiving and later.
"I really had to say we had a great season,'' said Anthony Fontanarosa of Fontanarosa's. "It went well. The weather was on our side this year.''
Weather forced cancellation of just one market day.
Fontanarosa's, which specializes in ravioli and pasta products, is one of the market mainstays.
"We have loyal customers,'' Fontanarosa said. "It has been really awesome. They have always been receptive to anything I do.''
Cynthia Soto, the Empanada Lady, agreed. She completed her fourth year at the market and her first year working out of her food truck.
"We always do well,'' Soto said. "I have a long line from the minute I get here until the end. The Empanada Lady has become a household name here in Long Valley. People just look forward to Thursdays. It's empanada night for them. It's the thing they do on Thursday night."
Flocktown Farm will be there this week for  CSA pick up, locally grown organic produce and farm fresh eggs.
Successful Marine
Even some new businesses have gotten a foothold because of the success of the market. Giuseppe's Barbecue and Rack and Ribs Catering is a little over a year old. Before that it was only a dream for Dave Szemple, a former Marine, who thought a lot about forming a barbecue business while stationed in Afghanistan. The barbecue entrepreneur started coming to the market in July and seems to have found his niche.
"Long Valley definitely loves their BBQ,'' Szemple said. "It makes it worthwhile coming out here. A lot of people don't have access to barbecue so half the job has been to educate the people on barbecue and just having fun with it. I get repeat business and it has been very humbling. It shows that what you are doing is worth it.''
Of all the businesses, perhaps the biggest success has been RACKS thrift shop which was set up by the
Long Valley Junior Women's Club
. Over the summer months, the business was able to expand its inventory and add Saturday hours.
"We are extremely happy,'' said Susan Coscia, the shops co-founder. "Every week our sales are growing. People are dropping off a lot of great clothes and it's really starting to take hold. I think it is going to be really big in a few years. I think it needs to be more out there in the community. People need to know about it. When they do, they will be coming in and using the service because it really is a service – affordable clothing for everybody.''
The Market will remain open from 3 to 7 p.m., Thursdays, Nov. 12 and 19.
Nov. 19 is health and awareness day with various vendors and items for Thanksgiving.
Dec. 6 is the annual "Holiday Happenings" from 3 to 6 p.m. Various activities are planned in downtown Long Valley with a Hanukkah menorah lighting at 4:30 p.m. and Christmas tree lighting at 6 p.m.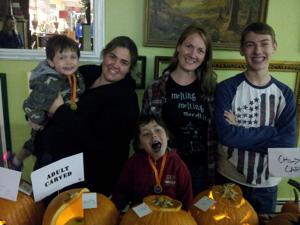 Photo by Mark Kitchin
Pumpkin Extreme
The Long Valley Green Market hosted its annual pumpkin decorating contest last Thursday. Gaining honors, were, from left, Declan Anderson, Megan Anderson, Annie Anderson, Susan Donovan and Jeremy Hoffmann.